Alright so it's a new start for Kym now, we're going to start from her solo days, there'll be no rubbish about the past on here and no mention of Hear'say! It's a new start for a wonderful lady :) Mrs Kym Marsh!
Here's the news...
In this column we will include any breaking news on our one and only favorite star, including upcoming appearances, tabloid press stories, magazine articles and so on.

Enjoy!
Magazines to check out for KYM-
OK!
Now
Sneak
Heat
Closer
Hello
TV appearances:
Kyms video for "cry" will be previewed on the saturday show after 11.30 on 18th January 2003
Kym and Jack appear briefly on "Celebs behaving badly" on 31st December (but it's poo of course!)
Kym and her family appear in her documenty- Kym Marsh: Happy ever after- Sky 1, REPEAT 29th December
Kym briefly appears on the show "Hear'say-hear today, gone tomorrow" on Sky 1, Thursday 19th December
Jack Will Be on the frank skinner show on Tuesday 10th Dec
Jack in Eastenders revealed- Jamie Mitchel- 28th August
Kym and her family appear in her documenty- Kym Marsh: Happy ever after- Sky 1, Sunday, 25th August
Magazine appearances- (highlighted stuff, still in shops)
OK! Magazine- 3 pages on Kym's solo work and 1/2 page on Jack- 09/01/03

OK! Magazine - 12 Pages - Kym and Family - 19th Dec 2002

Heat Magazine - Jack interview - 17th Dec 2002

OK! Magazine celebrity year 2002 book- 3rd December 2002

OK! Magazine 3 pages from Paris- 5th Dec 2002

Heat Magazine - 2 pages about kym at the dentist - 3rd Dec 2002

Sneak Magazine 2 Pages On Kym And Jack in Paris - 26th Nov 2002

OK! Magazine 2 pages on Kym shopping - 20th Nov 02

Now Magazine 20th Nov 2002 - 2 pages kym n jack

Heat Magazine -2 pages jacks new hair- 23rd Nov 2002

OK! magazine 1 page on kym from lakeside in essex - 6th Nov 2002

Sneak Magazine- 1 page on Jack on Leaving Eastenders - 5th Nov 2002

The Sunday People Newspaper - Pictures From kym at Lakeside in essex - 3rd Nov 2002

OK! magazine Kym Jack David and emily - Oct 23rd 2002

Sunday Mirror Newspaper on Kym - 13th Oct 2002

OK! magazine 4 pages on kym and jack! - Oct 16th 2002

Sneak Magazine - 1 1/2 pages on Jacks 21st Birthday Party - 1st Oct 2002

OK! magazine 1 page on kym and family at Chesington- 9th Oct 2002
Guess who's back again? Kym is back tell a friend!-17/01/03- Kym's solo work promotion will start next month with the release of the video (with a special suprise) a radio tour and then tv tour. So it's all happening in February! Agh I'm so excited!
Kym, set to be one of 2003's biggest stars!- 19/01/02
Known universally as the true voice behind Hear'say Kym Marsh looks set to rise to chart stardom during 2003 with the release of her long awaited solo offering, Cry. After a fantastic 2002 which saw her marry former soap heart throb Jack Ryder in a fairy tale ceremony covered exclusively by OK!, Kym is back doing exactly what she does best and focusing on the fine form that many of her fans have missed since her departure from the ill fated Popstars band Hear'Say.
Promising to be cross between Natalie Imbruglia and Texus, Kym has described her debut offering as `a happy little album', promising a more grown up slant to her collection of songs. And, with rumours of an appearance by Jack in the video, Kym looks set to be one of the biggest musical stars of 2003.
Kym Marsh has a cracking singing voice, good looks and a canny intellect, but we think her continuing popularity is more thanks to that elusive `X Factor', which only an elite few can boast. This star quality is the reason we've included Kym in the music section of Hot People of 2003.
The former Hear'say star, who married Jack Ryder last summer in a romantic ceremony covered exclusively in OK!, is releasing her first solo single Cry, in March. She told us to expect material in the style of Natilie Imbruglia or Avril Lavigne, and is confident she'll fare well in the increasingly competitive music charts and so are we.
Jack finally says goodbye to Eastenders- 25/12/02
Jamie Mitchel said his last words ever on our screens this evening on Eastenders as he died of Liver faulure after being run over by Martin Fowler, Sonia and all the Mitchels sobbed as he died. This wont be the last we see of Jack though!
R.I.P Jamie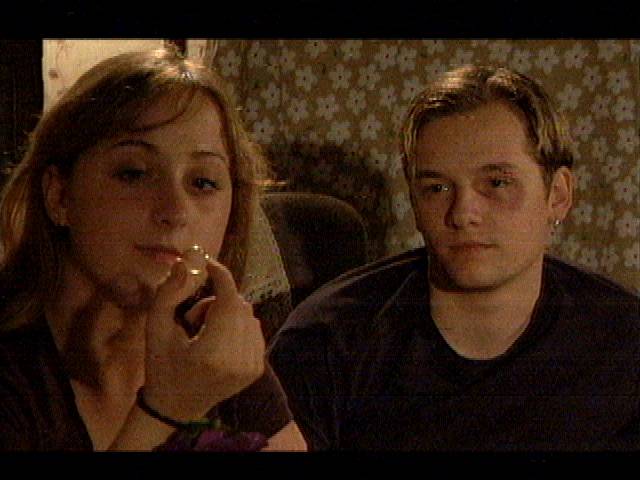 we'll miss you
Kym Crocked (daily star) 18/11/02- Kym was in agony yesterday after painful 90 minute surgery at a posh Harley street teeth clinic, as she left she clutched a tissue to her mouth getting into her new Audi tt with her husband Jack. Lets hope she gets better soon!
Let there be light!-01/11/02 Kym Ryder turns on the xmas lights at Lakeside shopping centre in Essex today, great fun was had by all as she switched on the lights then went on to auction of xmas trees for charity! Go kym!
Jack films his last scene in Eastenders- 28/10/02- Jack is set to leave our screens at around Xmas time, un-fortunately the story line has leaked to the papers but if you don't know yet then we aren't going to spoil it for you. He filmed his last scene this week, 2 months before it screens. After Jack leaves he is hoping to star in films and expand on his types of characters, we're sure we'll be seeing alot more of him in the future, and don't worry you still have a while 'til you see him go. Oh and rumour has it, he's going to cut his hair too! *gasp*
Myleene blubs on national TV- 25/10/02
Myleene Klass, former Hear'say member and Kym bandmate cried her eyes out on the Frank Skinner show tonight as she spoke of the terrible traumas she has been through during her spot in the limelight, what i want to know is, if it was so bad, how did she still find time to slag Kym? hmmm.... was this a publicity stunt for sympathy or was it genuine? we'll let you decide but we can tell you one thing. She was certainly lying when she said she thought Kym was a great girl we all know her and Kym dont get along and it seems as thought she is trying to come accross as the good one in this when we all know Kym is! so neh neh on her! Myleene better than Kym? KYMpossible!
01/10/02- Hear'say SPLIT!!!!!!-
A week ago Myleene, Noel, Danny, Suzanne and Jonny were assuring fans there will be another single and there will be a new tour..looks as if that was a lie! They have all officialy confirmed that Hear'say are no more. Let's face it! They fell to pieces when Kym left...I'm sorry, I have to laugh a little...ha...ha..ok im done :)
Kym: Hear'Say weren't booed when I was in the band
FORMER HEARSAY singer KYM RYDER said last night that she was shocked when she learnt of the bands split in The Sun.
Kym who quit the group in February said their decision to call it a day was a bolt out of the blue.
She said the Popstars winners should have stuck it out for a few more hits.
She was also stunned to hear her old bandmates had been abused by the public because she was always treated fairly by fans.
In an exclusive interview outside her home in St Albans, Herts, where she lives with husband JACK RYDER who plays Jamie in EastEnders and her two children.
Kym told me: The first I knew of it was when I picked up The Sun because I dont speak to any of the band any more.
Our paths just dont cross and I dont have their phone numbers.
It came as a bolt out of the blue. I had no idea.
I have read in The Sun how they received daily abuse but that never happened to me or the other band members when I was part of HearSay.
I thought there was more mileage in them and they would carry on for at least a couple more songs.
Their last single went to No6 just a few weeks ago and it is no mean feat to have a Top Ten hit nowadays.
The other three singles were massive successes, especially Pure And Simple.
But Kym who was replaced by JOHNNY SHENTALL when she walked out of the band insisted she wasnt enjoying watching their demise.
She said: It has been reported that I had rows, particularly with MYLEENE KLASS, and that we were at daggers-drawn but which band doesnt have rows?
It was just over silly little things. Nothing too serious at all.
One thing I would like to make clear is that Im not wearing a smug little smile.
In fact, I wish the band all the best and hope they can all go on and make a career of it, either with other bands or as solo artists.
I exclusively revealed yesterday that Johnny, Myleene, SUZANNE SHAW, DANNY FOSTER and NOEL SULLIVAN have called it day after just two years together.
In their last ever interview as a band, they told me they were sick of abuse from the public and of being booed when they got on stage.
But Kym, who is recording a solo album after signing with Universal Island, said: All my memories of HearSay are happy ones. They gave me a fantastic start.
I have no regrets about leaving HearSay when I did because it was right for me to go at the time and try something new.
I have two children a seven year-old-boy and four-year-old girl and being with the band gave me no time to be with them.
08/09/02-Kym's promotion - Kym's promotion for her new single which is set to be released in January is set to start in January. So look out for her on the TV and set ya tapes :)
29/08/02- Kym's new single-
Kym's new single that will release her solo career and is BOUND to be a hit, no doubt about it will be called..."Cry" we were given a hint of it in her documentry and we LOVE it! Woo! roll on no1!
25/08/02-Kym Marsh: Happy ever after HUGGEEE hit!-
Those who watched Sky1 @ 7 on Sunday will have seen the amazing up-close documentry on our favourite pop queen! It was so touching. We all ended up in tears. It makes us SO proud to see Kym back on the screen, where she belongs. Wonderful! :) :) :)
22/08/02-Kym reviews her hols-
-The ex-HEARSAY star,Kym Marsh and Easties Heart throb Jack Ryder's honeymoon has been described as 'a living hell' from their own mouths. Kym said
'We wanted to come home wed had a bit of a lousy week. '
"I got stung on the a**e by a wasp on the second day. The weather was good though I kept myself in the villa because every time I went out I could hear cameras clicking.
We got the holiday right at the last minute we didnt have anywhere to go. We just wanted to relax and Im scared of flying so I didnt want to travel too far.
We thought if we got a private villa we wouldnt get any hassle. The trip was a disaster but weve been laughing about it.
If we werent so close wed probably have been at each others throats. But Jacks gorgeous.
The wedding was fabulous a great day. There were no strops or arguments. People think of me throwing tantrums in Popstars but we had such a good day. Besides having a lousy holiday, Kym was devestated becuase her first lover had commit suicide. I am finding it very difficult to come to terms with. I hadnt spoken to him for about a year because hed had kids and moved away from the Wigan area, where we both used to live.
He was just one of those people you thought would be OK. I could never imagine him being that low.
His death wasnt anything to do with my marriage but they found him on the morning of the wedding. It was a huge shock.
I went out with him when I was about 14. He was one of the best blokes ever. He just said hed had enough. Hed lost his job and stuff.
Kym cheered up and happily said :
Im still recording and everyone thinks Im going to release something this year but Im going to wait. My songs have a bit more edge and are cooler than people will expect.
We did some good stuff in HearSay, dont get me wrong, but Ive got a new name Kym Ryder and Ill be recording under that.
Everyone who is a fan of Jack or me will know weve got married. It would be weird if I didnt use his name. Even Posh changed hers, though it didnt do her much good!
21/08/02- Paparazi snap'em-
Looks like the paparazzi have once again followed Kym and Jack on holiday, snapped at their villa pool. Why don't they just leave them alone for ONCE!
Singer Kym Marsh looks tantastic in Corfu as she laps up the rays on honeymoon with Jack Ryder.

Kym squeezed out the sun lotion then got a big hug herself from EastEnders actor Jack, 20.

Kym and Jack couldn't stop kissing all through their honeymoon.
Water cold Kym? Kym and Jack are so in love, and Kym looking in great shape they're the perfect match! But jack is not happy with his tum, he has said 'I want to fix myself up, get more buff'
Kym attempts to sit on her lilo.
Jack Ryder is attempting to bulk up for the winter after quitting Eastenders."I want to pile on the weight and play a psycho or something" er...right Jack, whatever you say! I don't know about everyone else but I can't exaclty see Jack as a psycho!
19/08/02-Kym and Jack set of on their honeymoon-
The couple go away on their romantic honeymoon to a villa in Corfu, Greece today to "have lots of...relaxing! and other things married couples do" hmmm... Well have a wonderful time guys!
18/08/02- Hear'say at number 6-
I know we said no Hear'say but it has to be said!
Today,Kym's ex-band mates didn't manage to get to the TOP 5 in the top fourty this evening, storming to number 6 n the charts. Are fans happy?
'Since Kym's deparure, i think hear'say had alot of pressure put on them for their next single, and Lovin' Is easy is a decent song,and No.6 is NOT bad at all for what they expected, and what everyone had said. I think for a song that good it SHOULD of got higher, but as i said No.6 is wickid, so don't hate' Annminous hear'say fan.
However others TOTALLY disagree
'Lovin is easy gt to no.6?! God it couldn't even get to the top.5. It shuld of done wayyyyy better than that!!' Annominus Kym and hear'say fan.
Stuck in the middle?
'I was a bit disappointed with the result, No.6 is good but i thought it could of done better.' Annominous Kym and hear'say fan.
In conclusion, hear'say are happy with the result, some fans are happy some fans are not, Let's wait for Kym's new January single.
10/08/02- Kym and Jack wed-
Our favourite couple have finally got hitched. They are now officialy man and wife, as of 1.30pm Saturday, August 10th. The traditional style wedding took place at St Albans cathedral in Hertfordshire and was a wonderful day. Kym looked stunningly beautiful in her wedding dress made by "Mirror Mirror" and Jack scrubbed up well too! Star guest included Liberty X (although they didnt stay for the reception) and a handful of Eastenders star including Natalie Cassidy (Sonia from Eastenders) as a bridesmaid and everyones favourite land lady Barbara Windsor! Over all the wedding went according to plan, and it didnt ran that much either! We're so proud and happy for you Mr and Mrs Ryder! We wish you the best for the future.