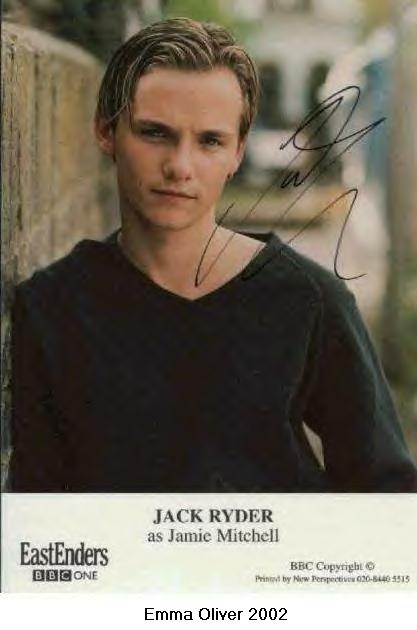 Get a Jack Ryder wallpaper. Click here.
Get a Jack Ryder screen saver. Click here.
Jack..heartthrob....
but he's Kym's so neh neh!
Name:
Jack Siegfreid Ryder

D.O.B: 21st september 1981

Family:
one brother- Harry and a Half sister- Violet
Mum- Avis and Dad- jack Hues (real name Jeremy Allen Ryder) divorced
Step dad called Paul

Born:
in Woolwich south London

Girlfriends:
Previous girlfriend of two years- carol heather (when they split she sold her story to the paper)

Pets:
Dog called Hendrix after jimi Hendrix

He also likes Oasis, Rolling Stones and Red hot chili pepers

Best mate on set is natalie Cassidy

Blue eyes

5'8

8 stone

First apeard in eastenders on 9th of november 1998 (Episode 730).

Had no acting experience before but while in eastenders did a small film called 'boy in darkness'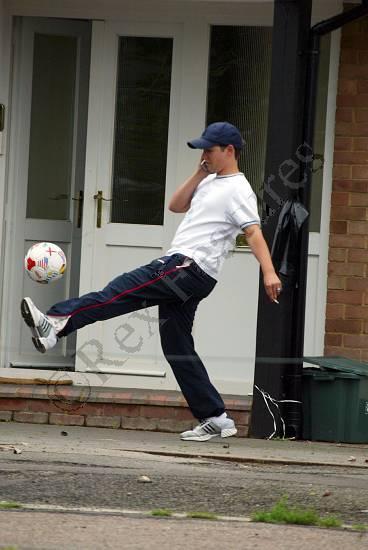 --Jack interview taken straight from the eastenders website--
Boots or Trainers?
Trainers as they are more comfortable and look better on!
If you could invite any five people in history to a dinner party, whom would you invite?
Jimi Hendrix, Bob Marley, Frank Sinatra, James Dean and Che Guevara.

What three items would you take to a desert island?
I would be thinking about survival so a Swiss Army knife, a bottle of water and a mobile phone.




Whats your most treasured personal possession?
It would have to be my engagement ring. (Jack is engaged to ex-Hear'say band member Kym Marsh)

Who would be your neighbour from hell if you lived in Albert Square?


It would most probably have to be Ian Beale, as our personalities would just clash!
Can you tell us what your favourite storyline has been, past and present?
There isnt one particular storyline I can say stands out as a favourite for me as I have enjoyed them all. I've especially enjoyed working with Steve McFadden (Phil Mitchell) and Natalie Cassidy (Sonia), who I believe are the best actor and actress on the programme. I think everyone here is great but those two just stand out for me. I enjoyed all the fighting scenes with Phil and the emotional issues with Sonia.
Can you remember the first record you ever bought?
Kylie Minogues first album and Cliff Richards album. The one that had the track Mistletoe and Wine on it.
Pie and Mash or Jellied Eels?
Yuk! Cant stand jellied eels so it would be pie and mash.
Do you have a favourite London landmark?
Big Ben as it represents the capital for me.
Would you ever want to live in Walford yourself?
Yes and no really. Yes because it is always full of action and friendly people and no as I think there are better places you could live in London.
What was the last book you read?
Lennon in America. A great book describing John Lennons years living over there after The Beatles broke up. It's really fascinating!

Do you believe in the existence of extra-terrestrial life?
I believe that there is something more out there but I dont think anyone really knows what it is.
Sum up your character in three words?
Clumsy, lovable and sensitive.



Poor Jamie


hints?



aww a teddy how...

romantic! :)
for more pictures of the lovely Jack click here:
Jack's interview with heat magazine-December 2002

Jack Ryder is sitting on a couch, smoking a fag, drinking a coke and directing a small child around the room. The child in question is David, the son of jacks pop star wife Kym Marsh. With kym spending the day recording her solo album, jack is assuming full stepdad responsibilities and has bought david along to the heat shoot rather than off-load him on to a babysitter. The fact that the seven-year-old David is as good as gold seems to suggest that the 21-year-old jack might actually be quite good at this stepdad lark.
Eighteen months ago, jack was the floppy-haired blond half of the starriest showbiz couple since posh n becks. Kym was busy notching up hit singles with Hearsay while jack was the most screamed-over studlet on TV as Eastenders Jamie Mitchell. But when Jack handed in his notice earlier this year, Eastenders decided to kill him off in spectacular style on Christmas day. We wont spoil it for you by describing his death scene but, suffice to say that, youll need plenty of Kleenex to hand.
Jack and Kym Married in a lavish ceremony in June. Now they have both left their respective cash cows behind and are on their way into the great unknown, Kym with her solo album, jack with goodness knows what. Hes gone from teen pin-up to resting actor with wife and family to support. A precarious situation for a 21 year old to be in but jack seems remarkably unfazed and together about it. Has it all gone wonky for the Ryder-Marshes or is this where it starts going supernova?

So whats it like suddenly having kids to think about?
Its really good. I settled in straight away. We just seemed to click. I remember the first time I met the kids. Just sitting on this bench with David and the sun was shining over the garage on us both, and we had a little chat and it was really nice just to get to know him. I dont try to be their dad but I just try to be there for them and have a laugh with them.

Do you want kids of your own?
Yeah. Of course we do. But not right know. Obviously

Youve shaved off your famous floppy locks. What persuaded you to do it?
I just had to. I finished my last scene at Eastenders at about 8:30 in the morning, and Dean Gaffney came in all the way from surrey to see me off and he wasnt on till midday, so I asked him to come back to the house to have some breakfast and stuff. So I got back and said Kym, Get the clippers Out

Do you associate that hair with Jamie?
Yes. Ive had that hair since I was 12 yeas old, and I purposely kept it for the character so that when I left I could look different. It seems to have worked so far. I dont get recognised at all.

Youve filled out a bit as well, havent you?
Yeah, im doing a bit of training. For four-and-a-half years, ive sat in the Green Room (at the BBC) and eating McDonalds and Smoking fags. So now that ive left, I want a new start.

Was your last day on the set really emotional?
We did most of the sad side of it weeks before I left, and then on the last day they all said a few words it was really nice then I just said my thanks to everyone there

What made you want to leave?
There are a lot of things. Eastenders has changed in the past few years, and I think a lot of people would agree with me. It used to be quite a fun place to be.

What do you mean?
Im not going to say. But the main factor was that I didnt want to be stuck in a soap for the rest of my life. I started when I was 16, and ive just turned 21, and you can get comfortable: the moneys great, you know everyone there I was chatting with my brother and he was like, maybe its time to get out of there and get a few knocks and experience life a bit more instead of having it so easy.

Was it a hard decision to make?
It was something Id thought about for a good year. I dont think you can just sit there one night and think right, I want to leave. And there were times, even after id quit, id think, jesus Christ, have I done the right thing here? but deep, deep down I think I have.

You met kym at the BBC didnt you?
Yeah, in the bar. Kym had been on the other side chatting with Mark Lamarr. I looked over and she smiled and seemed really nice. She was just sitting there with her trainers on and I liked that: shes not trying to impress anyone.

did you know much about her beforehand?
I didnt know a lot about Hearsay, but I knew kym had kids so I introduced myself and said, how are your kids? and stuff, theni went to the Red Cube with a load of mates, and she was there with Suzanne (shaw). I was feeling a bit glum that day, and she came over and she was chatting to me, and she just seemed like she really cared.

Ticking all the right boxes?
Yeah, thats it. And then Hearsay went to spain to shoot a video, and I happened to be there at the same time. It was so weird, there was so many of these coincidences.

Do you remember your first date together?
Well, we first sort of got together in spain. We actually just sat in the villa chatting all night, sitting on the balcony with some candles. She stayed over

She stayed over on a first date?
(laughing) thats all im saying. I think she was a bit worried because I was so young, and maybe I just wanted a bit of a fling with someone, and after a very short time she realised that id really fallen for her and it all started.

You proposed to her with a sort of treasure hunt for the ring didnt you?
Yeah, then I got dowm on one knee, in the pouring rain, in the slush, and she said yes.

Did she cry?
Yeah, she shed a tear.

Did you cry?
Yeah, I shed a couple of tears myself. We were talking about waiting a couple of years and stuff, and my brother said, well, why dont you just get married now?

You had your wedding covered by a magazine. Why?
I wanted to go to a little church in italy or somewhere, and just do it very quietly. But we sat down and we thought, lets get married here. And then the question of security came up. But I can honestly say that we spent every penny from that magazine deal on the wedding.

You were together when kym left Hearsay, weren;t you?
I was there the night she quit. I was sitting with her.

Was it a big decision for her, like you leaving eastenders?
Yeah, both our own decisions on both sides. When it came out that I was leaving eastenders people were like kyms imfluenced him and all this, and she said to me thats a dig at you, to say that you cant even think for yourself I make all of my own decisions and kym makes all of hers.

How was your honeymoon?
It was a real disaster. When we got there we went in the pool and got locked out. Then kym got stung by a wasp on her buttock and we had to go to the doctor. And then we got a phone call to say that our rabbit had died. Then we got another phone call saying one of kyms old friends had committed suicide. It said in the papers that hed killed himself because id married kym but he was just an old friend of kyms.

You came home early in the end didnt you?
Yeah. All the press were there and wed be swimming in the pool and all of a sudden a photgrapger would go all right, mate? it got to the point were we just thought lets just go home because we cant enjoy ourselves me and Kym are going away again soon. A second honeymoon.

Back then she was in this massive group and you were in the biggest soap. When you look at yourselves now does it seem a bit like what happened?
No. because I think were do close. Like kym says id be happy on the dole if I was with you

Do you feel pressure now to keep earning big to keep them?
I just want to be with kym and the kids and my family. I dont feel pressure, no. obviously we want to do well but if that doesnt happen its not the end of the world theres so much out there to do, so many countries so many languages and people to meet.

You seem really positive but I read somewhere that you were on antidepressants?
Im not on them anymore whe I first started eastenders I got a flat I got a car, started paying a mortgage and getting attention everywhere I went. One day I was driving to work and I had a panic attact and because I was driving I couldnt get out and I was being sick on myself in the car.

Oh god. What did you do?
I went to see this guy not a shrink but a doctor and he said jack your 17 years old for you not to be affected, you wouldnt be normal so I started seeing him a bit. It did shock me to go from a kid on a estate playing football in the park to have your friends looking at you like your some fucking smart arse youre like OK ive got a car now it doesnt mean im a wanker I still wanted to go down to JJB sports on the bus with my friends but I couldnt

Did therapy help?
It was good for me because it let my family know that it wasnt easy. People sit back and go Oh Jacks alright now hes got money! but you still have feelings and you still get scared about stuff

Were you on Prozac?
I dont know what it was. He just said take them and theyll make you feel a bit better! and eastenders helped me in a big way with it.

Does that scary feeling ever come back?
No im fine now. Then I was still a boy and now I feel more like a Man

Who are you going to miss from eastenders?
Dean Gaffney (Robbie), Natalie Cassidy (sonia) and steve McFadden (phil) im going to miss steve very much because hes taught me everything I know

Deans recently been told hes been written out after ten years. Hes not happy about it is he?
I think thats awful. For him to give ten years dean left school at 15 to be in eastenders and for a producer to come in and after less than a year turn around and say youve got six weeks

How unhappy is he?
I think hes quite shocked and upset cause Dean loves eastenders. I dont. I cant thank them enough for the opportunity but I didnt fear leaving. Whereas for dean thats his life, but as I said to dean youve got to go out there and show em what you can do. Theres so much more to life!

İHeat Magazine typed up by Kelly Poole
Heat Magazine December 2002