Kym and Jack's interview for OK! magazine issue 302

The BBC canteen is hardly the most romantic location in the world but, When eastenders heart-throb jack ryder spotted his wife to-be kym marsh acroos a crowded hall, he instinctively wanted to get to know her better.Jack who felt immediate atrraction to the glamorous singer,tells ok! "i looked and smiled back and felt a bit srange you know,like there was something going on"

So were You surprised when Jack Proposed,Kym?

I was actually in shock because i didn't expect it,although we had spoken about the future and we both knew we'd want to spend it together.We said we would get engaged but didn't know when.I went and had a ring made for jack but i didn't think he'd got one for me.It was the kind of thing that only happens in films
Jack: For ages i was thinking about how i was goin to do it and loads of things went through my head. i kept bugging my mates,asking them for ideas and they came up with the idea of using a video camera.

Well,Don't keep us in suspense-how did you propose?

Jack: we had a disagreement in the morning and kym had to leave and it was under a bit of dark cloud.I decided to keep the pretence up of being annoyed and that i felt a bit down so she wouldnt suspect anything. all day kym kept ringing me to ask if i was okay and i was really cool with her and jsut said that we'd have a chat when she got back. I think she was really worried about what was going on. When kym got in she was concerned because i wasnt there.i'd set the video camera and had left a note on the floor which told her to press play.
Kym:And you said;"you're back early Kym(laughs).
Jack:Yeah,and then i said do me a favour and look under the cupboards in the bedroom.so kym opened the cupboards to find a jacket,scarf,hat,torch and a letter.
Kym:it was all quite cryptic.the letter said that i need to put on the clothes and take the orch because it would be dark outside. I followed the instrutions in the letter to go outside,turn right,go down the steps and go into the carpark.
Jack:At the bottom of the carpark i told kym to look under the ivy,Where she found letter number 2.i was standing nearby and could see this little figure trampling away with a torch.She openend the 2cnd letter which said walk ahead of you to the lamp post and look under the trees.i'd left a big white box under some trees,there was a nother letter in the ring box which she ripped open and it just said:"what are you waiting for!" she opened the box and there was a note inside saying,look over at the tennis courts i lit a cigarette and stood there,she walked over and i gave her the ring.

How did you start chatting?

Jack: i just said hello how are you? kym gave me a kiss on the cheek and i put my hand on the back of her neck and gave it a gentle Squeeze.Natalie Cassidy(whp plays jack on-screen girlfriend sonia jackson)was looking over at me thinking whats going on.

Where did you go on your first date?

Jack:My friend dan's got a little villa and we knew that if went out for a meal or to a club we might get pictured. we just wanted to get to know each other so we sat chatting on the balcony for hours

So how did the realationship progress?

Kym: we were seeing each othe every night,either at his place or mine. Even though we were both really busy with our jobd and enjoyed what we were doing, we still managed to see each other quite regularly
Jack: Some days i'd work untill really late and Kym would come down to my dressing room and even if we could only snatch a few moments together.

Is there a lot of humour in your realationship?

Kym: yes lots,because we're best friends. we do have our serious times altough we dont argue as such, if we have a disagreement it's always over something silly and we soon forget what we're supposed to be arguing about.





You appear to be very close but there must be personal traits about each other that you find annoying..

Jack: Kym such a great person and is very open and understanding.when theres someone who cares about you that much and really knows what you're on about its amazing. sometimeswe sit down and say things at the same time and look at each other thinking its so weird.as far as i'm concerned kym hasn't got any bad points.
Kym:Oh come on youre always shouting at me about one thing,you know,when i put myself down
Jack:Oh yeah kym's always going on about her weight and it annoys me because i think she's gorgeous. I Suppose alot of girls do that she thinks she ugly and can feel negative. if i didn't see kym for 3 months and came round looking like and state i would say something but not in a bad way i d say something like "lets get you sorted out"
~
Kym: Jacks got so many good points,he's jsut a perfect package. hes kind thoughtful and caring most of all hes my best friend,But jack has hes insecurites aswell he gets scared about the same things.I worry he'll run off with someone else and hes feels the same way about me. when you've found someone and it's so perfect you cant quite believe it. we just dont want to lose something good.
Jack: I suppose i do feel insecure about being on my on because i'm on such a high with kym,Like all couples, we have our ups and downs,but we just work through it.
Kym:Quite early on in the reationship i had to go away for months when i was touring with hear'say and we were worried about the pressure on our realationship,but we worked through it
one night I had a gig in sheffield and it was jack birthday. I did the gig and finished at 10:30pm got in the car and came down just so i could see him on his birthday and i had to leave firt thing in the morining

Kym,your children are currently living with your parents in wigan with your parents,Pauline and David,close to their Father, Dave.Will they come to london with you and jack soon?

I'm not really sure what the future holds for the both of us,but ideally i'd like us all to be together.
:o)


Kym's interview for OK! issue 319

Interview - OK Magazine 6/6/02
Working as a solo artist certainly seems to suit Kym Marsh. Shes focused, happy, confident and thanks to a new fitness regime, looks simply gorgeous. No wonder record company universal snapped her up for their island label.
When kym left pop stars band hear'say five months ago, detractors said she would never make it alone. But she is determined to prove them wrong and show everyone that a sexy image, a strong character and a cracking singing voice are exactly what you need to take the charts by storm.
The 25 year old says she has everything of which she could ever dream - a wonderfully supportive family, a new home and an august wedding to her handsome eastenders Fiance Jack Ryder. The record deal she told OK! At thos shoot in the Royal Suite of the sofitel St James London hotel, is just the icing on the cake.

Congratulations on your record deal kym! Tell us about it.
Its with universal Island Im still working with paul adams (one of the popstars judges), which is great. I think it is important to work with people you trust. It's a Six-Album deal - I cant believe it! Its Amazing. Its good to have a new start, a new team, some new producers

How much creative input will you have?
Obviously im going to do solo songs that other people have written but im so-writing too. With Hear'say everything was so mad, but now ive been given the opportunity to write.

Will Jack bo co-writing any songs? Rumor has it hes penned a few tracks.
He doesn't write songs actually. He plays guitar and has a lovely singing voice. But he doesn't write. He'll probably give me his opinion on things. Hes not into pop music though, hes into Jimi Hendrix and the Rolling stones.

Will You still be playing pop?
Im not going to change too much. Im not going to suddenly turn into a rock chick. It will still be very mainstream, otherwise the fans wouldn't get it and id be starting all over again.

Will you have a new image to go with your new songs?
Yes, that's why ive been training so hard. I watch what I eat. I looked at the different images I had with hear'say and then focused on something completely different. I wear less make-up - ive gone for a fresher look.

Did you not like your look in hear'say?
I think there were certain looks id never have had but I loved the purple and blue extensions. Also the hair with the flicks that Donald (McInnes who did Kym's hair for OK!'s shoot) created was great.

What training have you been doing to achieve your slim and toned look?
I have a personal trainer who takes me running and stuff twice a week. He weighs me, but I don't need to know. As he says it's the inches not pounds that matter, because muscle is heavier than fat. I then go running on my own twice a week.

Are you feeling confident about going solo?
Yes, but id be lying if I said I wasn't nervous. Im just going to do the best I can and hopefully it will be enough. Im very excited. Every time I hear a new song or go in there to sing something new its great.

You were in a very packaged band, has that made you jaded about the music industry?
No, I think there are still so many avenues to explore. Its completely different being on my own. Im branching into a completely new experience solo life is much quieter - unless of course you are Will Young or Gareth Gates!

Are you relieved to have left hear'say, as their popularity seems to be waning?
No, I had some great times with them. We were really good friends. Sometimes you have to look at your own options in life and decide what to do. I just did what I felt was right. Its sad that that part of my life is over.

Looking back, what do you think about those crazy 12 months in hear'say?
Its funny, its only now I think it was really hard work but really good fun. Ive been away five months now, taken stock and decided what I want to do, where I want to go. Ive been glad of that time - it's a big year for me, what with the wedding.

What can you tell us about the wedding?
Ive actually been holding it really close to my chest and getting a bit precious about it! Ive had a little help as we hired some party organisers colled Outer Sanctum. They've been fantastic! Thay help with everything, invitations flowers... I couldn't have done it without them! Im just hopeless!

What about the guests - will your former Hear'say band members be coming?
Ooh, I don't know - if they're around. But you know it depends on schedules.

So you haven't gone into manic 'bride-to-be' mode?
Well, I was nagging jack yesterday about his guest list: 'have you got it yet? Have you got it?' hes like: 'not yet' and im getting really stressed! Hes saying: 'calm down, ill get it done'

Is jack nervous about his groom's speech?
No, you know jack - he's cheekily confident. He'll pull this amazing speech out from somewhere. He said he'll be smoking an awful lot. Ill turn up at the church and there'll be a big pile of dog ends outside!

Will it be a big wedding?
Its turning out to be a very big wedding because my mum is one of nine children, so I have got millions of cousins!

What music will you have at the wedding?
A disco and a live band.

Which band - Hear'say?
No, they're too busy. I should of got Near'say the tribute band! I suppose they'll have to change the line-p now. I made the poor kym lookalike get sacked!

What about the honeymoon - isn't it tradition that the man sorts it outt?
Jacks looking into it at the moment. We've both got time off, which is fabulous. We though either one or the other wouldn't be able to.

Will you go somewhere exotic?
Actually I don't really like flying - I get very nervous. I hate take-off and turbulence. I get really scared so I think somewhere in Europe. Maybe italy. We really like italy!
Will you and jack be starting a family soon?
Oh yes. Id love to have another baby - but not yet. At the moment our careers are taking off so its not the right time, maybe in a couple of years

You're moving soon, aren't you?
Were not moving till next year. They say the most stressful things in life are moving home, new job and getting married - im doing all within the space of about eight months. We're looking forward to it.

Is it your dream home?
It's in a really nice spot, quiet, out of the way. The only people who go there are people who live nearby.

Jack's a south Londoner - has he been won over by the Hertfordshire countryside?
Oh, yes. Hes from London but hes never been a party animal. He doesn't drink. He likes staying in, watching TV. He says he would never move back.

Do you miss Wigan, your home town?
I miss my sister and my brothers and their children. My sister is my best friend. She was a big help for me when I had my first baby because I was so young. She has four beautiful children. That's why the wedding will be so great.

You've got a new tattoo, which spells Jack in Chinese. Was it a surprise for him?
Yes, id been away for a few days to see my family and I went to the tattooist who did my other tattoos. I asked him what the symbol for jack was - I always check because it could mean egg fried rice! It was very painful - I went to my mum and she was embarrassed because I was swearing.

What do you think of popstars runners-up liberty x's new song, just a little?
Its really good, amazing. I send them a text message saying well done. I still talk to them, keep in contact with jess and everybody. People thought there was a lot of rivalry but there wasn't.

Are you in contact with the Hear'say guys?
We havnt really crossed paths, to be honest. Im really sure there will be a time in the future when we'll meet again. We're all so busy. There off doing their album and im doing my own thing so we havnt really come into contact for that reason. It'll be nice to see them, I hope they're doing well.

Do you wish you'd been with liberty x rather than Hear'say?
Never, no. As much as I think they're great, I would never change anything owe everything to hear'say. You should never look back and regret anything.
Bless!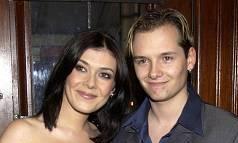 Kym and Jack @ Liza Minnelli
OK! Magazine Interview December 2002 Xmas Special
Typed by Kirsty-
What would be on most peoples ultimate Christmas wish list-a close, happy family, a loving relationship, a beautiful home, a successful and lucrative career? Well, dont hate them, but Jack and Kym Ryder have all of the above! Thats why this Christmas you wont find a happier couple than these warm and likeable newlyweds and OK! Were invited to share the festive fun in their sumptuous home in St Albans, Hertfordshire.

The last time OK! Visited the Ryders they had recently moved in, and although the house was beautifully designed and had the bare bones of a great family home, this time they had really stamped their mark on it.

The light-coloured fitted kitchen and huge morning room attatched is the hub of the Ryders home, always filled with friends and family members, with a radio or TV blaring. And as soon as the OK! Team arrived, Jack was immediately enquiring as to whether everyone had had enough tea-and he made us all a great bacon sarnie too!

Kyms eight-year old son Davids room must be the envy of all his friends with its sea-themed design and Emily, Kyms five year old daughter, specified that she wanted a pink and purple room and thats just what she got with one of the most sought after bedroom accessories for children her age-bunk beds. Kym and Jacks bedroom is luxurious and tasteful, with a walk-in wardrobe and an en-suite bathroom.

As our stunning, exclusive pictures show, the Ryder house is full of bright and beautiful Christmas decorations. Kym and Jack posed for pictures under the tree, wrapping presents, making Christmas pudding with the kids and simply enjoying each others company in their first Christmas as husband and wife.

Kym told us about her first solo album and her true feelings about Myleenes tearful outburst, while Jack opened up about his experiences on Eastenders and his hopes for the future now that hes left his role as heart-throb Jamie Mitchell in Britains number one soap

Kym and Jack, tell us about your Christmas day. First of all, what time will David and Emily get you up?
Kym: When theyre excited, they are always up early-about 6.30 to 7am. Theyll probably run in and jump on our beds. Both of them are excited about their presents.
Jack: Their presents will be downstairs by the tree, stockings in the fireplace.

Do they believe in Santa Clause?
Kym: Emily does, but David is getting a bit dubious
Jack: Ah, yes, but I had a word with him. Hes started saying he doesnt believe in father Christmas because his friends at school dont. But I said If you dont believe it, thats fine, but if its only because your mates are saying so And he said Well I do believe! So I said Well thats it then. Ive got a funny feeling youre going to get a lot more presents this year now!
Kym: Its a great way of making them behave-Santas watching you, youd better not be naughty. When David was younger Id get my brother or my Dad to ring him and pretend to be Santa if he was naughty.

So what is Santa getting them?
Kym: Theyre getting a bike each. And Davids getting a drum kit and Emilys getting a keyboard.
Jack: We might live to regret it [laughs]!

Who will be here for Christmas lunch?
Kym: Us, the kids and Jacks mum. My parents are up north with the rest of the family. Im cooking this year, which will be interesting. I can cook, but such a big meal for so many peoplearrrgghh! My mums coaching me.

What TV shows will you be watching?
Jack: Well, we probably wont be watching Eastenders because we want it to be a happy day [laughs]! Actually, its a bit too grown up for the children, so well probably watch Its A Wonderful Life.

Will you go to Church, Kym?
If the children want to, then yes. Id like to go to Midnight Mass, but well see. I dont think they would stay awake and I think Ill have too much to do.

And what will you be doing for the rest of the holidays?
Kym: Were going to see Jacks nan, then his dad on Boxing day, then well go up to see my family. Then for New Year well just be here, the two of us, watching videos and enjoying each others company in peace and quiet.

The house looks absolutely fantastic. Are you still planning to give this house to your parents, Kym?
Kym: Yes. When Jack and I arent around, my parents are my childcare. So I wanted them to have somewhere nice, near the kids school.

Where will you live?
Jack: Were having a house built. Theyre not starting until February so it wont be ready until July or August. Its a bit more private than it is here. Here were straight off a main road so we have a lot of people knocking on our door.

What do people want when they knock on your door?
Kym: They want to say hello, get an autograph. Thats fine and we do that, but sometimes you just want to chill out, or youre eating your dinner or something. Sometimes we get people trying to square up to Jack or girls shouting at him: what are you doing with her? You can do better than that. You know, the odd jealous girl, but on the whole theyre fans and theyre just being friendly. At our new house well have a gate and a drive so we can have a little privacy.

Do you get hit by the paparazzi a lot at home?
Jack: [Both laugh] Yes. Often therell be a car sitting opposite the house and we know its a photographer. They just come along hoping to get something-I dont know what. They want to catch us up to something.
Kym: They love saying were having a row! When we went to Disney they made up this whole story about the us having a fight. I was holding my bag to Jack-I was eating a hot-dog and was covered in sauce, so I said to him: Darling, can you get my phone out for me please? But in the papers there was a two page story saying Kym has a go at Jack because he wont carry her bag!

Youve been married for four months now. Do you feel different?
Jack: Yes, it does make a difference. I think lots of people, the general public, have a lot more respect for our relationship. Its not a relationship for publicity, as some people said. Its been great, people come up to us and say congratulations.
Kym: People know were together and they accept it. But we still get the odd group of girls wolf-whistling at Jack and I know theyre doing it to bug me so I just smile sweetly or put my hand on his bottom!

What was the truth about your disastrous honeymoon?
Jack: It was one thing after another. We got locked out of the villa, then Kym got stung on the bum!
Kym: We werent in the middle of Corfu in one of the resorts, as some said; we were on top of a mountain in a private villa. We caught one photographer in the bushes. Jack said: what are you doing? He said hed got what he wanted and was off, so we thought: okay, thats not so bad, hes gone. When we saw the pictures of us on the front of a paper we thought that was that. Then, as I was on holiday in a private villa, I went topless. Then I saw the pictures in a Sunday paper and I was a little bit upset, but there was this story that I tried to sell the pictures myself! Anyone who knows me knows Id never do that. It was the final straw and we just came home.

And hearing about the suicide of your childhood friend Tony Anderton was obviously extremely upsetting
Kym: Yes, he was actually found the morning of our wedding but I didnt find out until we were on out honeymoon. Id lost touch, not because of the Popstars thing, but ages ago. Hed got married, had children. I went out with him when I was about 12 for a week but we remained friends. His sisters a good friend of my sister. He wasnt the type to do something like that, he was always happy. Its just terribly sad. He was a good person; he never sold a story on me.

Why, have many of your old friends sold stories about you?
There was this one guy who did when we were on holiday. He was saying: heres my advice to Jack-if you want to turn her on, let her watch you have sex. I was 13 when I went out with him! Theres nothing you can do about it. The more you protest, the more people say youve done it. You just leave it. I dont blame the papers, theyve got a job to do. If theyre told something, theyll print it. With all the Popstars-type shows, people become more and more aware of the workings behind it, and whats true and whats not.
Kym, are you glad you were in the very first Popstars, now that there have been so many similar shows?
Yes, because I think there are too many of them now. Next it will be Gardener Idol or something! But the funniest thing is that those people who criticized out show, like Simon Cowell, Louis Walsh and Pete Waterman, suddenly theyre on the other shows saying their shows the best. I am glad-I wouldnt have liked to be on Popstars-The Rivals. Thats partly because you know what might happen now, after HearSay split, but also because we had great people on our show. None of the judges were stars in their own right. Now it seems to be about the judges more than the contestants.

Youve finished recording your solo material now. When will we hear it?
Hopefully my single will be out in March and my album in July or August. Its quite a happy little album. Its quite grown up, a cross between Natalie Imbruglia, Avril Lavigne and Texas. Its got a bit of everything.

Will we see an image change?
Im not going to be going on stage in tiny outfits with my belly showing or just a bra and a pair of pants! Now everyone shows their belly and wears next to nothing. You look at someone like Ms Dynamite and shes covered up. She just sings and she is fantastic. She blows everyone away and thats what its about. Its getting less and less about music and more and more about what people look like, and I think thats rubbish. To be honest, now that Ive lost weight I probably could do that but I dont want to go down that route. Im not old, but Im 26 and Im a mother of two and Im married.

What do you think of the Popstars-The Rivals final bands?
I was completely gob smacked that Javine didnt get through to the girls band, Girls Aloud. I was amazed! I voted for her, I think everyone assumed shed get in so no one voted for her. I like Nicola and Nadine. They all wanted it so badly, and I could really understand that. I love the boys-I think theyve got the edge. Theyre talented guys.
Jack: I loved Keith. I got really emotional when he got in!

Do you think it will be a blessing in disguise for Javine, not making it into Girls Aloud?
Jack: When she sang on her own after she was out of the band, with all the other girls around her, she was amazing and she looked different from them. Shell be better off on her own.
Kym: Different league. It was great for Sarah to get in, because shes not strong enough to be a solo star.

Is there a part of you that shudders for the Popstars-The Rivals band, because you know what they have to go through?
Kym: I know they are going to be rushed off their feet! The first year will be crazy and theyll take a lot of stick because the papers seem to be coming down harder on these shows now. They seem to take and instant dislike to people who were made in this way. I think its unfair.

Last time we spoke, Jack, you had heard some of Kyms new material. Have you heard the whole album now?
Yes I have. Im your typical non-pop person but I will listen to her stuff because its so good.

Would you be honest about it if you didnt like it?
Kym: [laughs] Yes he would-he has!
Jack: Ive said if I didnt think a song was good enough for an album.
Kym: If he says its crap I know its crap. I know hes just being honest. Hes not criticizing me or my voice. Theres going to be lots of people out there who are going to say worse things.

What happens if your album is a flop, Kym?
Then I try again. And again. And again. A lot of people think Im not doing anything, but Ive been working hard on this-I wanted to get every song right.

Myleenes tearful appearance on the Frank Skinner show shortly after Hear Says split revealed a more softer side to her. Would you ever get together with her now after all this time of not speaking?
Yes - you know, if she wants to talk thats fine. I would chat to her but I dont think we could ever be great friends.

And the others from HearSay?
The boys-I love them. I think theyve been totally disillusioned by the whole thing. They didnt deserve the criticism. They took a lot of flak after Id gone that they really didnt deserve.

Should HearSay have dusted themselves off and kept at it?
I thought they would have. I know how determined they were, how together they were, which was part of the problem-I felt so out of it because they were so close as a group. I thought theyd pick themselves up and carry on. Its quite sad, actually. I was totally shocked to be honest.

Have your children ever said to you Mummy, we missed you when you were in HearSay?
No. My daughter was two when I got in the house so she doesnt really remember it-and I did see an awful lot of them when I was in the band, despite what people say. David said to me: mum, remember before Popstars when we didnt have a penny? Now look what weve got! He appreciates it. He knows Mum goes to work so we can afford a nice house and stuff. Theyre very grounded.

Jack, hows your career going now youve left Eastenders?
Im a decorator now! Jack Ryder and Sons, decorators from St Albans. No, Ive been seeing lots of casting directors for lots of different things. Im being very choosy.
Kym: Youre doing what I did. Being careful and not just taking whatever comes along.

Does it seem strange at all to not be flat out going to work every day, Jack?
Im not used to it yet. Im like, hang on a minute, arent I supposed to be somewhere?

Was it emotional for you when you left Eastenders?
I didnt get upset when I left; Id done gone through that when I made the decision to leave. I was upset over how I was written out. It is still a really happy place to work, but it began to feel more separate between certain cast members. I know everyone was completely shocked to hear that Dean was leaving. He was told the character wasnt working, but take him out of that green outfit and get him a storyline!

Do you have any regrets about leaving the show?
I got a lot out of Eastenders-I got good money and good experience, but I want more than that now. You know everyone there, you know your character. Thats not a bad thing, but I simply want more. I dont want to be getting engaged to Sonia, then having an affair, then having a fight with Phil Mitchell forever!

Do you think you will miss the Eastenders cast?
Yes, Natalie [Cassidy, who plays Sonia], Steve[McFadden, who plays Phil] and Dean [Gaffney, who plays Robbie], who was the only one who turned up at 7am for my final scenes. I miss them all already.

Is it true that you had your hair shaved off as a symbolic end to your stint on the soap?
Yes, it was the day I left. Id had the same haircut and highlights since I was 13! I asked for a skinhead ages ago and they said no, then David Beckham got his and they said okay do it. But I thought, Im not doing it to look like David Beckham. And guess who did it with a pair of clippers?
Kym: Guilty! [laughs]

Are you going to keep it like that?
No Im growing it, but its great to get up in a morning and not have to bother with it.

Getting back to Christmas, what is Santa getting you both?
Jack: Well, were not going to go crazy. There wont be any Porches in the driveway with huge ribbons around them!
Kym: I got Jack this gorgeous guitar for his birthday and he got me an eternity ring, so itll just be a few bits. Its out first Christmas together and next year is a year of new beginnings so what Id really like is successful careers for us both, with maybe the odd number one record!